BCS' Fellows Technical Advisory Group (F-TAG) was formed two years ago to provide insight on cutting-edge technologies and professional practice.
The group has had a transformational impact in that time, working closely with the Policy and PR team, to grow our reputation for thought leadership with government departments, sector bodies, the media and our membership community.
F-TAG's work includes:
A paper on The Online Safety Bill produced with input from key member groups such as Law, AI and Software.
A proactive position paper arguing against a 'pause' on AI development.
Leading the development of BCS' open letter calling for AI to be seen as force for good, rather than an existential threat, which was covered by the BBC.
Most recently F-TAG was acknowledged by the government for supporting it's detailed process framework for AI Safety.
Could you be an F-TAG member?
F-TAG is beginning a new round of member recruitment; we are seeking Fellows from diverse demographic and professional backgrounds with proven expertise in a range of areas of technology and practice.
The map of expert fields we need to represent is below – please do state your areas of expertise on the short application form, should you choose to apply: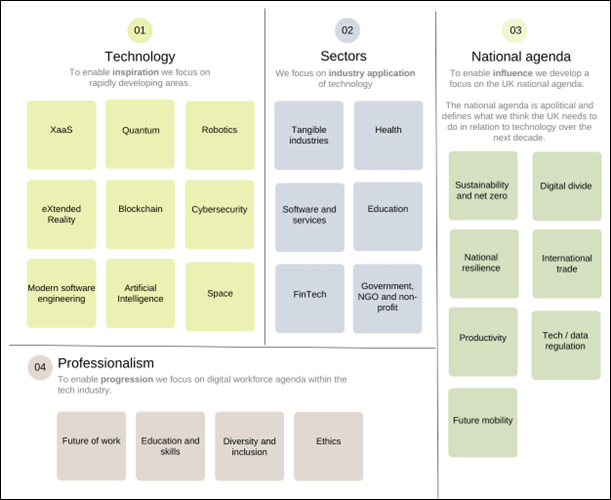 All F-TAG members must care about diversity and inclusion, and believe in the principle of making technically complex subjects accessible to a range of audiences.
What's required of me?
F-TAG meets online monthly. Between meetings, members are expected to lead, or collaborate on, the writing of BCS policy position papers with support of colleagues and the central BCS team.
If you are a BCS Fellow are interested in applying, Please complete this form by Wednesday 20th December 2023.
If you have questions before applying please email F-TAG Chair Adam Leon Smith FBCS (adamleonsmith@protonmail.com) and Deputy Chair Christine Ashton FBCS (christine.ashton@bcs.org).
Appointments to F-TAG are made by a Selection Committee reporting to Community Board – for full details please see the terms of reference on the F-TAG webpage.